Here are some notes from the recent WWE Raw episode: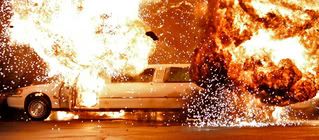 The picture above is supposedly Mr. McMahon being

ENGULFED IN FLAMES

. . . yes, you read it right,

ENGULFED IN FLAMES

inside a limousine! They are now saying that Mr. McMahon is presumed dead. In my opinion, this is a script job implicating the return of who else? D-Generation X. I'm serious about this. Reports are saying that once Mr. McMahon stepped in the limousine, the limousine exploded. Anyway, authorities are saying that it's a car-bombing incident. If ever this DOES NOT implicate D-Generation X's return, this just means that Mr. McMahon's character in WWE television is blown off or in simpler terms, his character is dead.

NOW THE DRAFT HAPPENINGS:
1. SmackDown picked The Great Khali.
2. ECW selected The Boogeyman.
3. Raw picked King Booker alongside Queen Sharmell.
4. ECW selected Chris Benoit.
5. SmackDown picked Torrie Wilson.
6. SmackDown selected Chris Masters.

7. Bobby Lashley moves to Raw.
8. Ric Flair goes to SmackDown.
9. Snitsky is picked by Raw.
10. Mr. Kennedy goes to Raw.

NOTE: There will be a continuation of the WWE Draft this Thursday.

Now, I'm really lauding WWE for giving Mr. Kennedy a chance to go to Raw and hopefully, kick John Cena's butt. Now, there is a deja vu that happened. Two years ago, John Cena, WWE Champion, was drafted to Raw and subsequently, Batista moved to SmackDown. Now, with Lashley moving to Raw, the ECW Champ is on Raw meaning ECW doesn't have a champ with them for now. But then, Jonathan Coachman stripped the ECW Title away from Lashley so we might as well see more chances of Cena without a title soon! Woot!

Credits go to:
Clickity click and another clickity click.